Ditambahkan pada: 22 November 2017

Rp 1.500.000

Rp 1.700.000
Stock: Tersedia
SKU:
Dilihat: 1865 kali
Kategori: Neodymium Batang / Kotak / Bar
« Arahkan kursor pada gambar untuk Zoom
« Klik gambar untuk Full Size
Produk Terkait
Neodymium Kotak 50x50x30mm SUPER KUAT

Neodymium Bar / Kotak /Batang 30x10x4mm Silver Super STRONG
Stock: Tersedia
SKU:
Rp 25.000

Rp 30.000
Neodymium Batang / Kotak 40x10x2mm SUPER KUAT
Stock: Tersedia
SKU:
Rp 15.000
Neodymium Kotak /Batang /Bar 20x10x1,5mm NdFeB Silver SUper Strong
Stock: Tersedia
SKU:
Rp 6.500
Pemesanan via SMS
Anda dapat melakukan pemesanan melalui SMS dengan format sebagai berikut:
Nama | Alamat Lengkap | Produk Yang Dipesan | Jumlah Pesan kirim ke 0812.3042.7669
Cash On Delivery (COD) / Bayar di Tempat
Anda juga dapat langsung mengunjungi Outlet/Toko kami yang beralamat di:
Toko DEJAVUMAGNET Raya Klakah Rejo No.69 Benowo - Surabaya 60191 Telp/Fax: 031.5743.1886 SMS/WhatsApp:0812.3042.7669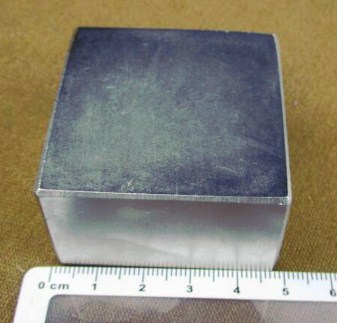 Condition: Brand new
Shape: Square
Dimension:50*50*30mm
Tolerance: +-3mm
Material: Neodymium magnets
Certification:RoHS passed
Grade: N35
sometimes one of hundred will be like that surface and side maybe 1-2mm tolerance or Groove . we will be so sorry for it ,but it will be aslo strong ,and not affect to use . so please understand it .it is normal .
Hcj ≥11 KOe
Hcb≥10.5 KOe
BHmax: 48-51 MGOe
Magnetization: Axially magnetized / Poles on Flat Ends
Max Operating Temperature: 80°C/176°F
Plating: nickel copper nickel triple layer plated
Weight: g
Caution: strong magnets are brittle; strong magnet could pinch your fingers badly; if you allow two magnets attract together, it may cracks and the chips could hurt your eyes
(The pull force was tested at 20 Celsius degree, on a polished iron plate with a thickness of 20 mm. The magnet was deducted vertically. A difference of up to -10% compared to the specified value is possible in exceptional cases.)